Founders
About the Founders
The idea for Wailing Wall Prayers originally came from Gregori Burd. Gregori left his family's insurance business in Chicago in 1999 to pursue full-time spiritual studies in Jerusalem.
Lisa and Gregori setup their home in the heart of the Jewish quarter, had five children and fast became active members of the local community, regularly hosting guests from Jerusalem and around the world. Tragically, Gregori passed away just 10 years after their marriage, in late 2013. After his death, stories began emerging of the many hidden kind deeds and secret acts of charity he had performed. The incredible amount that he accomplished in so short a time has inspired thousands, and numerous charitable projects have been established in his memory.
In the meantime, Lisa has proven herself to be a bastion of faith, inspiring the masses with her incredible inner strength and continuing in her mission to help people get closer to their Creator and develop their power of prayer through Wailing Wall Prayer.
How Wailing Wall Prayer began
After 5 years of searching for his life partner through countless dates, Gregori Burd decided to try the 40-days-at-the-Wall tradition in 2003.  Unbeknownst to him a friend was also praying 40 days at the Wall for him at the same time.
During the same period of time, Lisa, who had not even been dating, was experiencing many life tests that made her realize she was ready to get married.  After Gregori completed his 40 days, a mutual friend introduced them and two weeks later, Gregori and Lisa were engaged.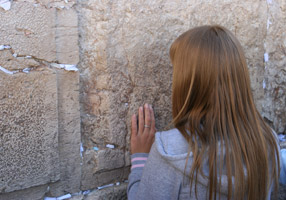 Lisa's friend Lia, who lived in Toronto, arranged to travel to Jerusalem for the wedding.  Like Gregori, she too has having difficulty finding her soul mate.  Lia decided to take 40 days off work to pray at the Wall for her soul mate. Upon her arrival in Israel, she rushed from the airport to reach the Wall by Sundown and visited everyday thereafter.  On the 40th day, a man she had previously dated flew in to see her and they became engaged later that week.
After seeing such wonderous blessings granted to them, Gregori inspired Lisa to offer people around the world access to the power of 40 days of prayer at the Wall and decided to launch Wailing Wall Prayers.  Now, Lisa and her assistant, Shira, help people to formulate their prayer requests, suggest positive practices that they may take on, and coordinate the rabbis and pious Jerusalemites who pray daily at the Wall.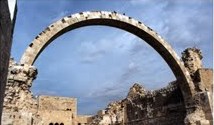 The result - spectacular.  Hundreds of prayer requests have been answered and peoples' lives changed for the better forever.  But the essence of Wailing Wall Prayers remains the personal attention and guidance that Lisa and Shira give to every single donor. Many of them stay in touch long after their 40 days have ended and their hearts' desire has been fulfilled.